Capt. Joel Munroe DeVolentine - Airlift Hero
This past year, the Foundation has had the honor and privilege of meeting Joel M. DeVolentine Jr, son of fallen Berlin Airlift Pilot Capt. Joel M. DeVolentine. Mr. DeVolentine has been kind enough to share the story of Capt. Joel M. DeVolentine:
Excerpt from: One Familyís Story: The Berlin Airlift
(copyright: Joel M. DeVolentine, Jr.)
Captain Joel Munroe DeVolentine, USAAC
Born: 2/1/1917, Lawrenceville, Ga.
Died: 8/24/1948, enroute to Wiesbaden while returning from Berlin during the Berlin Airlift
The Berlin Airlift: From June 1948 through September 1949, the United States and Britain flew 2.3 million tons of food, coal, and other necessities to war-shattered Berlin in more than 277,500 flights. Early in the Lift, all available pilots were recruited to begin the mission. Captain DeVolentine, head of Special Services in Wiesbaden, working out of the Kerr Haus, was there, willing and ready. As Russia blockaded Berlin in the first salvo of the Cold War, Americans, Britons, French and others were ready to stand or in this case fly against the new oppressor.
As a young child in 1920ís, Joel DeVolentine and his family moved to Coral Gables, Florida. Growing up in the far south he learned to enjoy the outdoors and sports. He was a Boy Scout and achieved the rank of Eagle Scout. He attended Ponce de Leon and then went to Miami High School, the first major high school in Miami. In high school he excelled in journalism, politics, his studies and school sports. The 1936 Miami High School Year Book lists Joel DeVolentine as:
President of Senior Class, Lettering in football (lineman), basketball & track, Captain of the Track Team,
Member of Student Council, Member of Quill and Scroll, On the staff of the Times (newspaper)
writing the columns "Sports Sputters" and "We Cover the Corridors",
Joel also held SE Javelin high school championship.
Edith Edwards met Joel when she was in the 10th grade; he was in the eleventh grade at the time. Edith was only fourteen at the time and graduated when she was 16. They had a strong loving relationship that was stormy and fragmented up until their marriage. Edith was on the Student Council and a class monitor in high school.
Joel graduated in 1936 and attended Duke University on a full football scholarship. While playing at Duke, during the 1938 season they went on to be undefeated, unscored against and un-tied. However, they lost in the Rose Bowl in January 1939 to USC in the final minutes, 6 Ė 3.
Joel graduated from Duke in 1940 and became a Vice president of Sertel-Reduka Insurance Company in Miami. He and another friend, Don Brooks, took flying lessons at Embry Riddle. Joel enlisted in the Army Air Corps in 1941 and began his training to become a military pilot. His basic training included stints at Randolph Field where he graduated as a cadet, officer and pilot.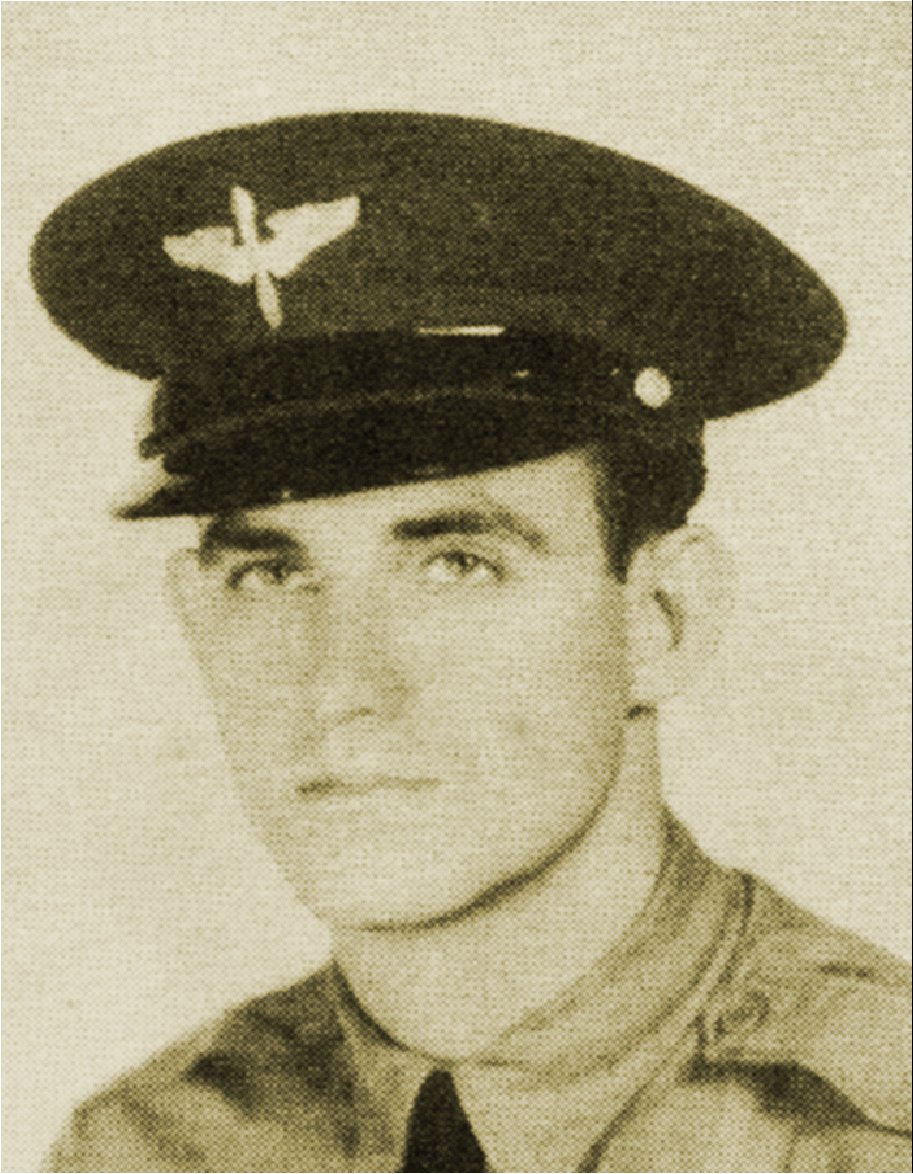 Joel and Edith were married on August 3, 1942, in Ocean Springs, Mississippi.
Various assignments followed during the war, but he remained stateside, against his wishes, writing manuals and training pilots. Every three months he requested to be transferred to a combat unit, however, the military apparently felt he was needed more as a trainer. They were stationed in Fort Worth and later transferred to El Paso, where he trained as a Captain of a B-29, designed for long range bombing missions in the Pacific Theater.
The War ended before he was shipped overseas. His bags had already been shipped out and he was ready for deployment from San Francisco. He was very disappointed that he never got overseas during the war. When the War ended, Joel was waiting for deployment in California. He stayed in California and then decided to stay in the service. Redurka Insurance was very disappointed that he did not return to his management position in Miami. A decision that would affect his life and his family.
Stationed in Wiesbaden, Germany in 1946, he was studying law at the time and was given the option of choosing to be part of the legal Adjunct Staff or to be in Special Services. He chose the latter and was put in charge of the Wiesbaden Special Services operation. Edith and his son joined him in Wiesbaden in January 1947. While in stationed in Wiesbaden, Joel and his family traveled to the Swiss Alps, Holland, Brussels, France, Luxembourg and Prague. Joel went boar hunting, fishing and deer hunting in the German country side. His son still has a set of antlers taken by his father hanging in his house.
Then the Russians blockaded all land routes in and out of the City. This meant the only access, in or out of Berlin, was by air. As a result, Captain DeVolentine was called up as one of the first pilots to fly in the Lift. He also was designated to certify co-pilots on the return runs so they could eventually handle their own trips.
The Lift began in June 1948 and on May 29, 1948 his daughter was born. Edith stayed in Wiesbaden with a young son and a newborn daughter.
The night before his last mission, he called home at 2:00 am, which was very unusual since he rarely called home for any reason. This was four months into the lift, and he said "Iím taking off now; Iíll see you in the morning about 9:00 am."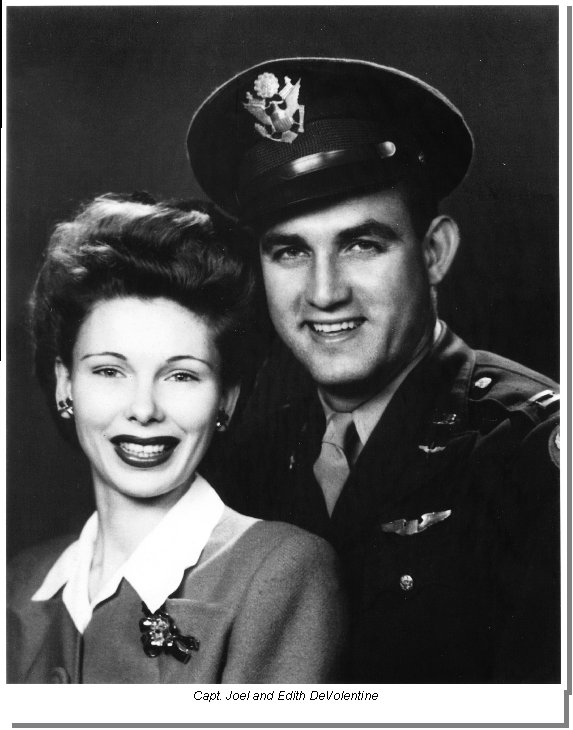 By noon, August 24, 1948, Edith had heard nothing from him, so she called Captain Don Brooks, a dear friend and also a pilot in the Lift. He said well maybe itís because of bad weather and maybe they were diverted elsewhere, but she knew. All of Captain DeVolentineís staff knew a tragedy had occurred, even though the details were not known, and began gathering at his house. At 6:00 pm, a Chaplain and two other officers came to her house and told Edith that a mid-air crash had occurred, that one was Captain DeVolentineís plane and that there were no survivors.
She doesnít know who was flying when the planes collided. The more experienced pilot, like Captain DeVolentine, usually made the flight into Berlin due to the heavy loads and the treacherous approach at Templehof. It was customary to allow the co-pilots to handle the return trip as part of their training. The weather, as it was frequently, was inclement and the ground control and adequate radar was still being assembled. Early in the Lift, radar and ground control was still very rudimentary and pilots flew C-47s instead of the C-54s that had to be redeployed to Germany from around the world.
A big group gathered at the Brookís home along with her three month daughter and her young son. It was a chaotic time. Edithís obvious emotions, an infant and a young son to deal with. Packing and shipping out. She shipped home to Miami with the two children. A military service was held at Woodlawn Cemetery in Miami a couple of months later.
Captain Joel DeVolentine was a brave military pilot, a writer, a poet, an athlete and artist, a father, a student and he never stopped learning unit that last fateful day. A few degrees difference on a compass, a few hundred feet difference on an altimeter or a delay of a few minutes for take off and one can only wonder what difference he would have made to his family and perhaps our society. Edith always said he had enough ambition to be President. Nevertheless, Joel Munroe DeVolentine laid down his own life to help secure the freedom of 2.5 million people from oppression. We shall never forget your sacrifice!