MARCH, 2003

THE WRIGHT STUFF:

The Wright Flyer takes to the air for the first time on December 17, 1903 at Kitty Hawk, NC.

2003 Event Season Begins With An 8-City Educational Tour

To help celebrate the 100th anniversary of powered flight in 2003, the Foundation and it's Spirit of Freedom will begin the event season with an 8 city educational tour, sponsored by the New Jersey Division of Aeronautics. The purpose of the tour is to give schools the opportunity to allow students to tour the Spirit of Freedom. The Spirit of Freedom will carry displays about the Wright Brothers accomplishments and New Jersey's role in aviation, in addition to existing Berlin Airlift displays. Beginning March 17, 2003 the Spirit of Freedom will be open for tours Monday thru Friday at designated locations around New Jersey.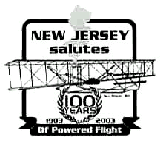 The Foundation is very excited about this opportunity, because the primary mission of the Spirit of Freedom is education and history. Finally we have an opportunity to have thousands of students visit the Spirit of Freedom and learn about history. The idea of a flyable museum/exhibit inside the Spirit of Freedom is slowly gaining recognition, and hopefully there will be a lot of "good" as a result of the city tours.
Office / Storage Trailer Donated for C-97 Program
In order to complete the initial airworthiness inspection on our C-97, the "Angel of Deliverance", we need to gear up to meet the demands of the project. One specific demand is the need to keep the C-97 maintenance manuals, aircraft records, work records, and progress sheets organized and secured at one location. To meet this demand, the patriots at Hecht Trailers of Toms River, New Jersey donated an 8 ft by 32 ft combination office and storage trailer, valued at $5,729. We are happy to report the trailer was delivered to the hangar at Floyd Bennett Field, Brooklyn, New York, and is already proving to be a valuable asset. The trailer is parked just aft of the left wing of the "Angel of Deliverance", thus making it easily accessible for inspectors, mechanics, and maintenance volunteers.
We salute Hecht Trailers for their continued support. We also give thanks to Michael Hecht for his recent gift of another trailer. If you have not visited the Hecht Trailers lot, it is well worth your time, especially if you are in the market for a trailer. The Hecht professional staff can provide you with almost any type of trailer imaginable, either to purchase or to rent. They are located at 2075 Lakewood Road, Toms River, New Jersey. Thank you Hecht Trailers for your significant contribution.
Salute to Bob Maddox/ Vice President Emeritus
The Foundation gives a special salute to our former Vice President, Bob Maddox, for all of his efforts to help solve the problems that exist when operating "four-engine" transports. Operating behind the scenes, Bob is always on the lookout for equipment, fluids, etc. that may be donated to help support maintenance and flight operations. In 1994, Bob Maddox made contact with Hecht Trailers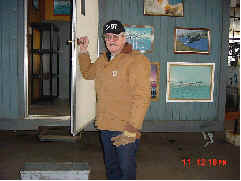 and obtained a trailer to support the C-54. Bob was also responsible for obtaining a second trailer, from Michael Hecht, to support the C-97. Each year Bob arranges for oil (normally 4 drums) to be donated to the Foundation, so we can replace the old C-54 oil. Further, Bob was instrumental in obtaining the necessary fuel to ferry the C-97 from Greybull, Wyoming. EXXON, Air BP, and Philips 66 were the donors of the fuel for the C-97 ferry flight. Bob's biggest find to date was in 1994, when the C-54 first became operational, he arranged for the donation of 34 drums of oil (that's right, 34 drums) to the C-54. Thank you, Bob for all of your efforts over the years; your contributions continue to make a significant impact. Bob Maddox, a true patriot, we salute you!
2002 : Was it Successful?
Make no mistake about it, 2002 was a tough year. A lot of energy was expended in order to make it through the year but we managed. As our National Support Group may recall, there was serious skepticism about the 2002 event season due to the unknowns following the attacks on the US. Event commitments did not come easy and there were times when the "Spirit of Freedom" remained on the ground with no scheduled events. We also experienced our share of unscheduled maintenance problems, which included a cylinder failure on our # 4 engine just 30 miles from our first event. We thought we would need to replace the entire engine but we managed to replace the cylinder and keep the engine going through most of the season. We did replace the engine (it was our high time engine with 1530 hours) in late October with a 220-hour engine. The replacement engine is doing fine. We also experienced a propeller problem when returning home from Saint Louis, which grounded the airplane at Latrobe, Pennsylvania for a week until parts could be obtained. Away from home problems are tough on everybody and it is significantly more expensive. Although 2002 was very tough on the Foundation, we managed to solve all of the problems; and in doing so, we gain more knowledge and became better at what we do. Our crewmembers did a great job and the Foundation salutes each and everyone of them for their help and cooperation during those difficult times. The good side of 2002 was the recognition given to the Foundation and the "Spirit of Freedom" for it's educational and historical role. The Foundation received more favorable comments and letters in 2002 than in any previous years.
Was 2002 a successful year? The answer is a definite yes! We salute all the patriots of our National Support Group who helped keep the "Spirit of Freedom" flying in 2002. Thank you for being there to help the "Spirit of Freedom" continue it's educational and historical mission.
CONGRATULATIONS KEVIN KEARNEY!!
NOW A CERTIFIED AIRFRAME AND POWERPLANT MECHANIC
It is with great pleasure and pride that the Foundation extend to Kevin Kearney our congratulations for his efforts to obtain his Airframe and Powerplant Mechanic Certificate from the Federal Aviation
Administration. The Federal Aviation Regulations have a provision that allows applicants to obtain their A&P mechanic certificate through practical experience serving under the supervision of a Certified A&P Mechanic. It became obvious about a year ago that Kevin's volunteer time as a member of our maintenance workforce was adding up having spent over 5500 hours working on the "Spirit of Freedom" and the "Angel of Deliverance" over the past several years. With documents in hand, Kevin presented himself to FSDO 17 of the FAA at Philadelphia, PA, and received authorization to take the exams. Kevin passed all three written exams and presented himself for the oral and practical exam on January 13, 2003. Well done Kevin Kearney, you did it the old fashioned way...you earned it
Kevin became a member of the Foundation a number of years ago knowing very little about airplanes or aviation. He did, however, bring alot of enthusiasm and the desire to listen and learn. Because he was always there when needed, Kevin gained experience in diversified maintenance, was accepted as a volunteer flight crewmember, was elected Corporate Secretary of the Foundation, and is now a member of the Board of Directors. Being a certified A&P Mechanic, Kevin will now hold a key position in future maintenance of the "Spirit of Freedom" and "Angel of Deliverance", where he will continue to learn and improve. It is the willingness to learn and improve that increases the safety aspect when it comes to operating the C-54 and C-97.
CONTRIBUTORS....YOU'VE GOT TO LOVE THEM!
As time marches on for all of us, we sometimes look back on where we were compared to where we are today. I often take time to reflect when unexpected contributions are given to the Foundation, and when patriots support the Foundation's mission on a continuing basis. Some of these contributors were total strangers several years ago, and today, they are instantly recognized names of people we respect. In some cases, we have met these good people and have become friends. The Foundation has deep appreciation for these contributors, who have enabled the Foundation to move forward.
The cost of operating is increasing. Costs for such things as postage, telephone, transportation of equipment, printing, copies, parts, etc. are ongoing expenses, and when unexpected help arrives, we are elated. Thank you again to all the contributors who helped make 2002 a successful year. The Foundation is able to perform its educational mission because of your continued support.
Contributions of any amount help get the job done. Larger contributions make forward progress. The Foundation would like to recognize and thank the following patriots for their generous support of $500 to $1000 contributions since August of 2002.
Airlift Veteran and lifetime member of the Foundation, Forest Ott, of Summerville, SC., for his unexpected $500 contribution presented to the Foundation at the Columbia, SC Celebrate Freedom event. Thank you Forest. It was great to see you again at Owens Field.

Angel # 4 of our C-97 "Angel of Deliverance" program, Marjorie Armstrong, of New Castle, Pennsylvania, gave us an unexpected $1000 contribution prior to Christmas 2002. Marjorie, no doubt about it, you are an Angel.

Airlift Veteran, Reggie Powell, of Winston-Salem, North Carolina, contributed $500 to become a lifetime member at the Manteo, NC event. Reggie, it was a privilege to meet you and to have you aboard the "Spirit of Freedom" on the VIP flight.

Our sincere and caring friend, Agnes Smith, of Paulsboro, New Jersey, contributed $1000 then another $700 to help out with the C-54 maintenance inspection. She wants the "Spirit of Freedom" safe for our crewmembers. Agnes, thank you, your gift is timely.

The Foundation also recognizes our good friend and supporter, John Yohannan of Whiting, NJ who continues to support the Foundation with his $50 a month contribution. Thank you, John.

Our longtime friend and former Berliner, Lothar Ziedler, of Edison, New Jersey, contributed an unexpected gift of $500. Lothar, we hope to see more of you in 2003. Thank you for being there for the Foundation.

Airlift Veteran and lifetime member of the Foundation, Fred Hall, of Baltimore, Maryland, contributed an unexpected $1000. Fred, you are too good to us. We miss having you at our flight engineer station on the "Spirit".

From our friends of the Berlin Airlift Veterans Association, the Foundation received an unexpected $1000 to help with our #4 engine change that took place in late October of 2002. Thank you BAVA for your help with the #4 engine. Thank you for caring!

From our very good friend, airlift veteran, lifetime member, and long time supporter of the Foundation, Charles "Pat" Patterson, of Hamilton, Montana, we received an unexpected contribution of $1000. Pat, you know how we feel about you, your continuous support over the years has made a big difference. Thank you my friend.

Russell Oberst of Essex Fells, New Jersey, contributed $1000. Russell, your unexpected contribution is appreciated. Thank you for your support.

Contributions for 2003 are expected to produce excellent results. It is anticipated that 2003 will be a very good year for growth.
DONT LOSE THE SPIRIT TO SUPPORT "THE SPIRIT" - Joe Werner
---
TWO BOOKS NOW AVAILABLE

In order to fulfill it's educational mission, the Foundation is always on the lookout for new books that can be made available to our supporting members, educators, students, and the public. We would like to introduce the following two books that are well written and most interesting to read. The book titles are as follows:

Berlin Airlift: Brides & Grooms Created is a historical and factual account of five German women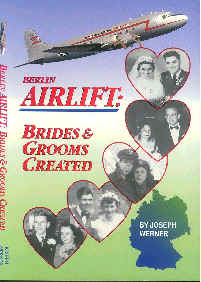 who became the brides of five American military men whoparticipated in the Berlin Airlift. The book is structured to present readers with five love stories that developed during a period of extreme hardship and tension. Mr. Werner's interview and questionnaire style gave the couples freedom to express their inner most thoughts and feelings. It is history as it happened told by the people who were there. Entertaining personal stories rarely told except to close friends or in discussion with individuals who had been in similar situations during World War II and the Blocakde of Berlin.
Mr. Werner has been a frend to the Foundation for several years and accompianied us across the ocean to commemorate the 50th Anniversary of the Berlin Airlift in 1998. Berlin Airlift, Brides and Grooms Created by Joseph Werner, can be ordered by mail by sending a check for $11.16 to Water Edge Publishing, Co., P.O. Box 1132, Stony Brook, NY 11790. Joseph Werner will pay the tax and shipping charge.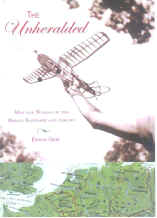 THE UNHERALDED: MEN AND WOMEN OF THE BERLIN BLOCKADE AND AIRLIFT The hrough Personal Experiences, it tells the story of the greatest humanitarian effort in modern history. With the Ground and water routes to West Berlin blockaded by the Soviet Union, the extraordinary Berlin Airlift flew coal, food, medicine, and everything else needed for survival to 2.24 million West Berliners for 462 days until traditional supply lines were restored in September, 1949. A good book that tells the story through the eyes of those who made it happen. The Unheralded can be ordered by telephone by calling 1-888-232-4444 or on-line at www.trafford.com. The cost of the book is $21.95 plus shipping costs.




Thanks to the Patriots of Gage Transportation International, Inc.

The Foundation thanks the patriots of Gage Transportation International, Inc. for their professional services for locating truck transportation in support of the C-97 project. Moving heavy objects will be the norm when operating a C-97, so we better get used to it. Engines weigh 6500 lbs., propellers 1500 lbs., and engine dollies alone weigh 2500 lbs. John Ivan, owner of Gage Transportation International, Inc. has been most cooperative to locate the right service at the right price to get the job done. In this busy world, it's a pleasure to have someone, like John Ivan and his professional staff, take the time to listen to the Foundation's needs with a caring attitude. We also want to say a special thank you to Margaret Meyers for ensuring that all is well with each move and taking care of all the details.

Notice to Volunteers / Get Involved in 2003

The Foundation needs help for the 2003 Wright Brother Anniversary Tour beginning in mid March. Volunteers are needed to help with safety and monitoring while school students visit the "Spirit of Freedom" during the weekdays, Monday through Friday. If you are interested, please contact the Foundation for details at 732-818-0034, FAX 732-818-0456, E-Mail:

Airlift48@aol.com.

Maintenance Volunteers Needed

Now is the time to get involved with our volunteer maintenance workforce. Help is needed with the C-54's current inspection and maintenance and also to get involved with our C-97 program. The Foundation needs good people willing to learn and grow with the Foundation. Contact the Foundation at 732-818-0034, FAX 732-818-0456, E-Mail:

Airlift48@aol.com.

NOTICE: ATTENTION EVENT PLANNERS AND PROMOTERS FOR 2003

The Foundation is planning to keep the Wright Brothers display in the Spirit of Freedom for the entire 2003-event season. If you are looking for this special display for your event, consider the C-54 "Spirit of Freedom" and bring the 100th anniversary of powered flight to your event. You may contact the Foundation at 732-818-0034, FAX 732-818-0456, E Mail: Airlift48@aol.com or Airlift49@aol.com. Check us out at our web site: www.spiritoffreedom.org.

HEINZ GERD REESE HONORED WITH BRITISH O.B.E.

At a ceremony at the British embassy, British ambassador Sir Paul Lever honoured our friend, Mr. Heinz- Gerd Reese, the managing director of the Luftbrückendank foundation (Airlift Gratitude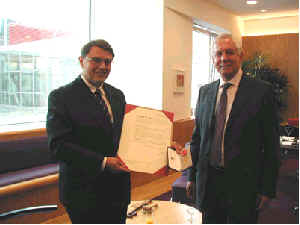 Foundation), with the 'Order of the Brtish Empire'. Under the leadership of Mr. Reese, the Foundation is devoted to the financial support of the families of veterans of the airlift, airlift veterans associations and and the organization of student exchange programs.
The Luftbrücken foundation was founded in 1959 by the former government mayor Willy Brandt, to remember the British and American efforts that kept the the city alive. Mr. Reese has been managing director of the foundation, since 1983, whhich has developed greatly over the past few years. We salute Mr. Reese for his personal dedication to the Stiftung Luftbruckendank (Airlift Gratitude Foundation). The nomination of the 'Honorary Officer of the Order of the British Empire' was personally confirmed by Her Majesty Queen Elizabeth II.
AIRLIFT VETERAN HARRY BARNES
This photo, taken during the Berlin Airlift, shows Harry Barnes in the left seat in command of a Douglas C-54. Harry's flying career in the US Air Force is unique as his experiences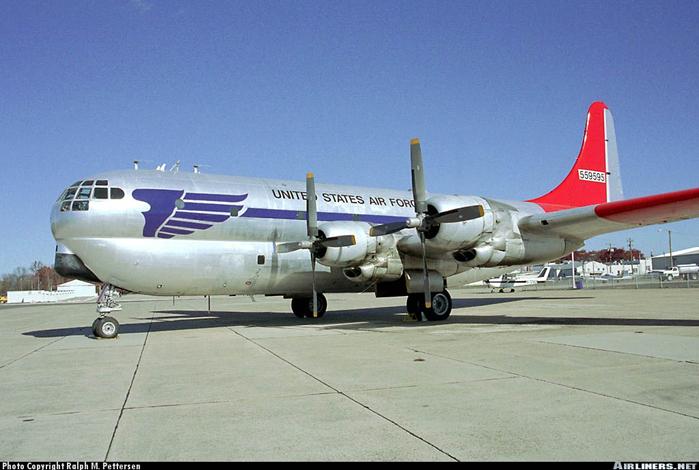 include not only the Berlin Airlift, but also many years at the controls of the Boeing KC-97 as a tanker pilot.

We are very fortunate to have befriended Harry's sister, Ann Barnes of Orlando, Florida, who is an accomplished artist and has created several outstanding paintings of Harry's flying experiences. Our readers can look forward to samples of her paintings in future reports as the Foundation features Airlift Veteran Harry Barnes.
CONGRATULATIONS TO O.B. JOHANNESSEN AND PATRICK CUCCO
OF CONSOLIDATED INSTRUMENTS!
RECIPIENTS OF THE CHARLES TAYLOR AWARD
We would like to congratulate. O.B. Johannessen, "OBJ" and Patrick Cucco of Consolidated Instruments as their names will join the list of names on the "Roll of Honor" at the FAA Building in Washington, DC. Both were chosen to receive the "Charles Taylor Award", the highest recognition from the United States Government for an aviation technician. Both received their awards on November 12, 2002 at the Port Authority Headquarters at JFK Airport in New York.
Charles Taylor
Consolidated Instrument Company is proud of this accomplishment. As you may realize, December 17, 2002 marks the 99th anniversary of the first powered flight. We take this opportunity to congratulate all who have been recognized with the award named after one of the men who made that first flight possible!
For those who don't know, Charles E. Taylor was a mechanic who worked for the Wrights in their bicycle shop in Ohio. There, he designed and built the engine that powered the Wright Flyer. Orville and Wilbur concentrated on the airframe. Mr. Taylor is considered the first Aircraft Mechanic .
Consolidated Instruments has been a longtime friend and supporter of the Foundation's missions and have helped us many times over with various instrument issues in the "Spirit of Freedom". It is only fitting that we say Thank You, and Congratulations for this prestigious award given to two really great people. Congratulations OBJ and Pat, Well done!!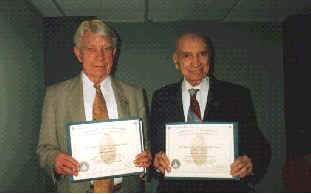 O.B. Johannessen & Patrick Cucco
THE FOUNDATION EXISTS ON YOUR GENEROSITY. YOU CAN HELP MAKE 2003 A VERY IMPORTANT GROWTH YEAR. FINANCIAL CONTRIBUTIONS MAY BE FORWARDED TO THE FOUNDATION AT:

Berlin Airlift Historical Foundation
P.O. Box 782
Farmingdale, NJ 07727

YOU CAN NOW SEND CONTRIBUTIONS TO THE FOUNDATION VIA PAY PAL BY SIMPLY GOING TO OUR WEB SITE AT www.spiritoffreedom.org AND CLICKING ON PAY PAL.
C-97 "ANGEL OF DELIVERANCE" PROGRESS: #3 ENGINE HAS BEEN REMOVED

On December 28, 2002, progress was made on the C-97 program by the removal of the borrowed #3 engine from the
"Angel of Deliverance". Foundation members present for the event were: Tim Chopp; Kevin Kearney; Art Norton; Steve Grubesich; Jeffrey Grubesich; Jim Reed; and Walter Henry. Having prepared the engine for removal the previous Saturday, we began the day by performing some maintenance on the C-54 "Spirit of Freedom" while we waited for a crane to show up. At about 12:00 noon, Sol Stern of CNB Crane Rentals, Brooklyn NY drove up to Hangar 'B' and the action was about to begin.
First, we had to assemble the engine hoist which connected the engine to the crane. This large frame-like device belongs to Hawkins and Powers Aviation and is on loan to the Foundation. Once the hoist was assembled, it was attached to the crane ad lifted above the engine so we could attach it. After a bit of a struggle, we soon discovered that keeping the engine perfectly balanced was the key to making this easier, and the
hoist was adjusted to accomplish this.

When we all had decided that the hoist appeared level, we gave Sol the thumbs up and he put a small lifting pressure on the engine. At this point, the 2 bottom bolts were already out and we were seeking a "Floating" position in order to remove the top ones and ensure the balance of the large R-4360. Once this was established, the bolts were removed and the engine was solely supported by the crane. The engine was off of the airplane.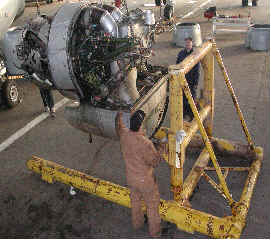 The tricky part of all this was to lower the engine and turn it in such a fashion so that it lined up with the large Boeing made engine stand provided by H&P. Sol operated his crane with tremendous skill and made light work of the process. In a few short minutes, the four mounting bolts were secured and the crane was disconnected. Sol informed us that, according to the scale inside the cab of the crane, the engine (actually the complete Power Pack) weighed 7500lbs. Can you believe that?!? An aircraft where the engines alone total 30,000 lbs.!! Wow!
Afterward we thanked Sol for his time and the use of his crane. It turns out that Sol himself is a pilot and he was really impressed by the Foundation and both the C-54 "Spirit of Freedom" and C-97 "Angel of Deliverance". Thank you Sol Stern and CNB Crane Rental!!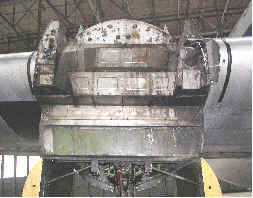 What's next for the C-97?
Getting this engine back to Wyoming, and locating some suitable replacements and spares.
Remember, Slow and Steady Wins the Race.
"Spirit of Freedom" Returns to Floyd Bennett Field
On December 17, 2002, Wright Brothers' Day, the "Spirit of Freedom" returned to Floyd Bennett Field, Brooklyn, New York, for the winter.
The day began at Dare County Regional Airport at Manteo, North Carolina where the "Spirit of Freedom" would participate in a flyby of the Wright Brothers' Monument as part of a 99 plane air parade to celebrate 99 years since the Wright Brothers first successfully flew a heavier than air flying machine. This was the 3rd year the "Spirit of Freedom" was honored to participate in this special event. We have many fond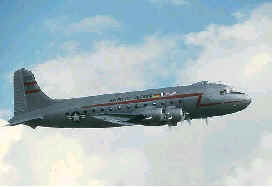 memories and we have made many good friends. No doubt about it, being at the Wright Brothers' Monument is the place to be on December 17th.
The "Spirit of Freedom" departed the Dare County Regional Airport at 11:53 AM and 3 minutes later was making the flyby at the Wright Brothers' Monument. This flyby was special because we once again were privileged to have on board, the Berlin Candy Bomber, Gail S. Halvorsen, who released Hershey Candy bars via small parachutes as he did during the Berlin Airlift. The candy was dropped in 2 groups: The first group consisted of 31 parachutes to honor the 31 Americans who died in Aviation related accidents during the Berlin Airlift and the remaining 100 parachutes were released several seconds later. The weather was excellent with sunny skies, a 9-knot wind out of the West Northwest, and temperatures in the high forties. Following the flyby, the "Spirit" and crew proceeded to Norfolk, Virginia where Gail Halverson and Bill Morrissey would deplane and resume their journey to their respective homes via commercial airlines. Gail returned to Utah and Bill returned to Indiana. The "Spirit" then departed Norfolk at 100 PM for the flight to our home base at the Robert J. Miller Airpark, Toms River, New Jersey, where another crewmember, Joseph Groetsch, would also deplane. Joe, a Berlin Airlift veteran, lives near Philadelphia. After a 90-minute flight, the "Spirit" touched down at Miller Airpark at 2:30 PM. After contacting the National Park Service at Floyd Bennett Field to ensure all authorities were ready for our arrival, the "Spirit" departed Miller Airpark at 3:00 PM for the familiar flight to our winter haven and the security of the hangar. As we leveled off at 1200 feet, I could not help but think back to May 10, 2002, when we flew the same familiar route with our C-97, the "Angel of Deliverance". Surely this is a sign of progress now that we are returning to Floyd Bennett Field with our 2nd transport aircraft.
We were in no hurry to reach New York, so we throttled back to 25 inches of manifold pressure and 1750 RPM, cruising with a ground speed of only 120 knots (the wind was now out of the Northeast with sunny skies). It was another serene moment to absorb the sights, sounds, and smells of the "Spirit of Freedom" as Sandy Hook came into view. The return flight to Floyd Bennett Field has become routine over the years. We now descended to 1000 feet to stay below the New York Class B airspace and after reaching the tip of Sandy Hook; we turned due east and looked for the Gil Hodges Bridge. Floyd Bennett Field is located just to the left of the bridge. With the bridge now in sight, and only 5 miles ahead, we contacted Kennedy Tower and stated the following: "Kennedy Tower this is Douglas N500 Echo Juliet, we are 5 miles West of the Gil Hodges Bridge at 1000 feet for our annual return to Floyd Bennett Field". The tower has been informed several times

of our arrival by the National Park Service and responds quickly with, "Douglas 500 Echo Juliet, radar contact, descend to 500 feet, you are cleared to enter Class Bravo Airspace, report landing assured at Floyd Bennett Field".

During the descent to 500 feet, we completed the in range checklist and also contacted the Park Service on their frequency. We now have the runway in sight and with a Northeast wind; we will land on runway 6. This will be the first time we have landed on runway 6 as every time we have arrived over the past several years, we have landed on runway 24. We are excited about the landing on 6 because our approach over the field at 500 feet will take us directly over Hangar B, and at that altitude we will get a birds eye view of our winter home. This is one of the few times we can fly this low and still be legal, so we enjoyed every second of our view. We rolled out on left downwind, extended the gear and flaps and completed the landing checklist. Our left base leg took us over the busy Belt Parkway and one can only imagine what motorists were thinking to see this 4 engine transport that low with the wheels down. We now contacted Kennedy Tower and advised that landing is assured at Floyd Bennett Field. The landing was normal and the long taxi to Hangar B was enjoyable. The Park Rangers and our HARP (the Historic Aircraft Restoration Program) friends were at the hangar to welcome us back. We taxied right up to the hangar entrance and shut down. Within minutes, the "Spirit of Freedom" was towed into the hangar and parked in front of our C-97, the "Angel of Deliverance". At last, the C-54 and C-97 were in the hangar together. It was appropriate to see this happen on December 17th, Wright Brothers' Day. Work began almost immediately to begin the Number 3 Service Inspection on the "Spirit of Freedom". All of the oil will need to be drained from the tanks, engine sump, oil coolers, and prop domes. All 112 spark plugs will need to be removed and replaced. A compression check will have to be performed on all 56 cylinders and on and on. The "Spirit of Freedom" has officially completed the 2002 event season and is now resting comfortably in Hangar B. It will be a short rest, however, for the first event for 2003 is scheduled for March 17, 2003 at Toms River, New Jersey.




ANGELS RECEIVE CORGI "ANGEL OF DELIVERANCE" MODELS




What do Randy McConahy, Yvette Straet, John Enggren III, Marjorie Armstrong, Ruth Smock, and Jon Amtower have
in common? Answer: Each one received a Corgi model of the Foundation's Boeing C-97G as a small token of thanks for their financial support by donating $5000 to the C-97 project. The combined contributions from these 6 "Angels" played a major role to help ferry our "Angel of Deliverance" to Floyd Bennett Field. The models were acquired from Corgi Classics Limited of Great Britain and forwarded shortly after Christmas to each of our 6 contributors. The C-97 model is in the 1:144 scale and is an exact replica of our C-97G, the "Angel of Deliverance". It is also a limited edition model and has been distributed worldwide. If you desire to own one, we recommend that you contact your local hobby store and put in your request before they are all gone.
---
MAY 2002
C-97 successfully flown to
Floyd Bennett Field, Brooklyn!
Photo by Walter Henry



Today at approximately 2PM EST, Boeing C-97G 52-2718, Angel of Deliverance, touched down successfully at Floyd Bennett Field, Brooklyn, NY USA.

This flight concludes the ferry process of the airplane which started in October 1998, when she was first flown by the Berlin Airlift Historical Foundation from Moses Lake, Washington, to Greybull, Wyoming. The second leg of her ferry flight commenced on July 2, 2001, as she departed from Greybull. THis leg was cut short by an engine failure. THe third leg commenced in October 2001, as the aircraft was flown from Aberdeen, South Dakota, to Millville, NJ.

The airplane took off on May 10, 2002, from Millville, NJ for the final leg, which lasted all of about 35 minutes.

This marks significant progress in the Foundation's C-97 program. The "Angel" will reside in Hangar B at Floyd Bennett Field for approximately 2 years, as she is inspected and repairs are made, in necessary. During the 2 year sheltering, a museum will be constructed in the fuselage's main cargo deck, commemorating 40 years of Cold War history, beginning with the Berlin Airlift of 1948 and concluding with the fall of the Berlin Wall in 1989.

Photo by Walter Henry

We are in need of massive funding to replace the powerful 28 cylinder Pratt and Whitney R-4360-59B engines, which can be acquired at a cost of $150,000 each. Help is needed. Without it, the project will cease.

Thank you

Kevin Kearney
Secretary,
Berlin Airlift Historical Foundation
http://www.spiritoffreedom.org/


FOR MORE C-97 INFORMATION, PHOTOS, AND VIDEO, CLICK HERE
Photo by Walter Henry
Taxiing towards Hangar 'B'
A Very Happy Flight Crew!
-------- NOVEMBER 2001---------
<![if !mso]><![endif]>
C-97 in Millville, NJ with 99 Miles Remaining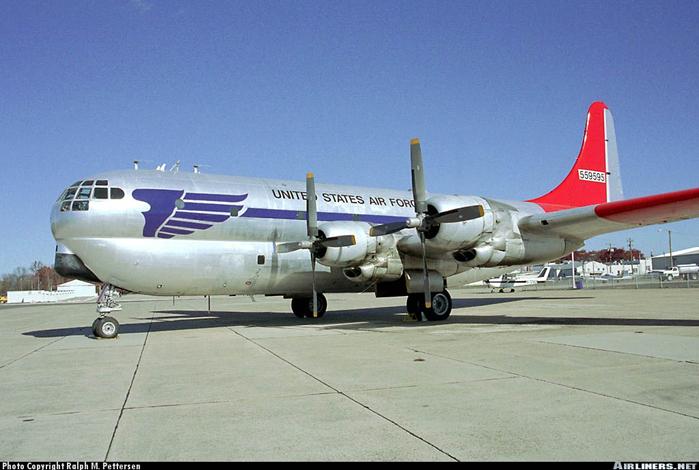 C97 "Angel of Deliverance" sitting at Big Sky Aviation at the Millville Municipal Airport, New Jersey




THE GOOD NEWS: As last reported in October, our C-97 "Angel of Deliverance" was still stranded in Aberdeen, South Dakota in need of an engine replacement. Since that last report, many things have happened. As a result, we are happy to announce the airplane's arrival on the East Coast. On November 3, 2001, at the direction of the Foundation, a team of mechanics from Hawkins and Powers Aviation traveled from Greybull, WY to Aberdeen with a replacement engine for the faulty #3 engine on the "Angel of Deliverance." Given the difficulty and complicated process of removing and replacing an engine of this magnitude, the professionals of Hawkins and Powers Aviation made it look easy. After only 2 days, the airplane was ready for run up. At 9:30 AM, Eastern Time, the "Angel of Deliverance" roared into the sky once more for the 6-hour flight to New York. Several hours later, the "Angel" could be seen circling over Millville Municipal Airport in Southern New Jersey, the final stopover on the journey to Floyd Bennett Field, New York. The stop at Millville was necessary due to a morning arrival at Floyd Bennett Field requested from FAA Air Traffic and Security. The flight was to continue on the morning of the November 6th but had to be cancelled because of higher priorities by the National Park Service. An alternate date for arrival has not been determined at this time. The alternate date may be in the near future or not until Spring of 2002.


THE BAD NEWS: The engine that now hangs on the #3 position does NOT belong to the Foundation. We are simply "leasing" it for the ferry flight. At the Foundation's expense, we have to return the leased engine to Hawkins and Powers after the C-97 arrives at its final destination. In addition, the Foundation is looking into the possibility of purchasing the engine from Hawkins and Powers. In the meantime, we plan to retrieve the Foundation's spare C-97 engines from Corpus Christi, Texas when our financial situation will allow it. We estimate that it will cost $3,500 to transport the heavy engines to New York. We are currently exploring options for the transportation phase of this project. While we are extremely happy that the C-97 is in New Jersey, we cannot take all the credit for bringing the C-97 this far. It was a team effort all the way, and we would like to thank the following people for their role in helping bring the C-97 closer to home:

Hawkins and Powers Aviation - Greybull WY
Tom Wylam - Airport Manager, Aberdeen SD
Quest Aviation - Aberdeen SD
Mark Cavin, Aberdeen Flying Service - Aberdeen SD
Lou Finch - Airport Manager, Millville Municipal Airport, NJ
The Millville Army Airfield Museum
Dani Limberg, Quest Aviation - Aberdeen SD
Foundation Volunteer Dick Markgraf.

Steve Hilton - Aberdeen Machine Tool

Doug Roethler - Aberdeen Machine Tool

We also must thank Northwest Airlines, as they once again, played a significant role in the C-97 project. Northwest was kind enough to provide return airline tickets to the Hawkins and Powers crew after they arrived in New Jersey. We cannot say enough about Northwest's dedication to keeping this airplane airworthy. Thank you Northwest, you have played a key role.
We are still a long way from operating the "Angel of Deliverance" as we do the "Spirit of Freedom,"TM but we are significantly closer than we were. It is still going to take dedication, and lots of hard work. We also need a good base of support, including volunteers, logistics, and financial support. Together we can make it happen as we have in the past with the C-54, "Spirit of Freedom."TM

NOTE: The final bills are not in, but the cost to have the engine replaced and the C-97 ferried to New Jersey is approximately $13,600.00, (Thirteen Thousand Six Hundred US Dollars). The cost to have the borrowed engine returned to Wyoming is an additional cost.

Bringing the C-97 to Operational Status

FORMULA: GHDT= Operational C-97

The formula required to bring the Foundation's Boeing C-97G to full operational status is relatively simple. As a matter of fact, it's the same formula that brought our C-54, the "Spirit of Freedom" TM to life. GHDT equals an operational C-97.

G = Generosity. The most important ingredient of the formula. The Foundation needs generous contributors to support the continued growth of the C-97 program. Airworthy maintenance items, the creation of a Cold War museum, and crew training require funding. Funding which will hopefully come from generous contributors.

H= Hard Work. There is much to be done to transition the C-97 into an educational tool and complete the initial airworthiness inspection. This phase of the program will require reliable volunteers who have the desire, attitude, and willingness to work hard. We have such volunteers.

D= Desire to learn. The complexity of the C-97 does require an effort from operations and maintenance personnel to learn how to operate and maintain this transport safely. The C-97 requires team players with the desire to learn. The approval to operate the C-97 will come from the Federal Aviation Administration, providing the Foundation can demonstrate we have capable personnel.

T= Time. To bring the C-97 from its present state to full operational status will take time. With enough funding the C-97 could be operational in 6 months, however, a more realistic estimate is 18 to 24 months. This period of time will be the "fun time." It will be fun to bring to life the "Angel of Deliverance," a flyable C-97 Cold War museum/exhibit, used for educational and historical purposes.

<![if !mso]><![endif]>

Jon P. Amtower Donates $5,000 and Becomes Angel #6

Gratitude, appreciation, and thanks are the words that describe our feelings towards Jon P. Amtower of Gettysburg, South Dakota for donating $5,000 to help finance the engine change on our Boeing C-97G. Thanks to Jon's unexpected generosity, the Foundation was able to replace the #3 engine and depart from Aberdeen, South Dakota before the winter snows arrived. On November 5, 2001, the C-97 departed for Millville, New Jersey.

Reading an article in the Aberdeen American News newspaper about the Foundation's efforts to transform the C-97, "Angel of Deliverance" into a flying cold war museum, Jon E-mailed the Foundation stating he wanted to help by making a contribution. The Foundation was elated to discover Jon planned to donate $5000.

Jon P. Amtower is a patriot and veteran of the US Navy, having served from 1963 to 1969. While in the Navy, Jon spent two shipyard tours helping to construct the USS James K. Polk, SSBN-645 and the USS Taulog, SSN-639. Both ships are now decommissioned and out of service. Jon also worked for the National Ocean Service, which is part of NOAA, from 1972 until his retirement in 1996. While with the National Ocean Service, Jon worked his way up to Chief Engineer having served in the engineer room on several vessels conducting Oceanographic Research.

During Jon's childhood his favorite airplane was the Boeing C-97. Jon aspired to become a flight engineer and managed to acquire an Airframe and Powerplant Mechanic Certificate. Unfortunately, due to the airline industry eliminating the Flight Engineer positions, he was never able to become a flight engineer. Jon has always been interested in round motor aircraft. Jon can remember as a child the Pan American Airways Strato-Cruisers that flew the Pacific routes. Jon's current interests also include working on his HO Model Railroad layout and reading his extensive book collection.

Along with the other contributors who donated $5,000 to the C-97, Jon's name will be displayed on a permanent plaque inside the C-97 "Angel of Deliverance." In addition he will also receive a permanent plaque for his home that identifies him as Angel #6, and a special "Angel of Deliverance" T-shirt.

In order of their contributions, the roster of $5000 contributors is as follows:

Angel #1 Randy McConahy, Allentown, New Jersey

Angel #2 John W. Enggren III, Forked River, New Jersey

Angel #3 Yvette Straet, Brussels, Belgium

Angel #4 Marjorie Armstrong, New Castle, PA

Angel #5 Ruth Jorgensen Smock, Silver Springs, Maryland

Angel #6 Jon P. Amtower, Gettysburg, South Dakota

Help preserve a Boeing C-97 for educational purposes. Thank you for caring.

November Brings Three $1000 Contributors/ Straet/Burns/Patterson

The Foundation received three separate $1000 contributions from three special patriots during the month of November 2001. These timely contributions were used to help finance the engine replacement on the C-97. These contributors are as follows:

Yvette Straet, from Brussels, Belgium. Thank you Yvette for your continued support to bring the C-97 cold war museum one step closer to reality. Yvette was employed by Pan American Airways during the 1950's as a flight attendant and flew many flights across the Atlantic Ocean in the Boeing 377 Strato-Cruiser. Yvette also is Angel #3 in our "Angel of Deliverance" funding program having contributed $5,000 two years ago.

Robert B. Burns, Melbourne, Florida. We offer our thanks and appreciation to Robert B. Burns, Lt. Colonel, USAF Retired for his generous contribution. His contribution is made in the memory of his late daughter, Lori Burns Reinhart, who passed away on October 15, 2000 at the age of 43. Having served with the 307th and 44th Air Refueling Squadrons (was commanding officer of the 44th ARS), Robert is very familiar with what it takes to operate a Boeing C-97 and he wanted to do more to help with our engine replacement. We had the good fortune to thank Robert, in person, at the Stuart, Florida event on November 18th when he and his wife Janie visited our C-54, the "Spirit of Freedom" for the first time. He and Janie were very pleased with the educational and historical mission of the "Spirit of Freedom." They are both looking forward to the role of our Boeing C-97, the "Angel of Deliverance" as a cold war museum/exhibit. Also, Robert is a Lifetime member of the Foundation.

Charles (Pat) Patterson, Hamilton, Montana. There are not enough kind words that can be said about Pat Patterson, USAF Retired. Pat is a C-54 pilot of the Berlin Airlift and a long time supporter of the Foundation. Thank you Pat for your kind contribution to help with our C-97 engine replacement. Pat has made several generous contributions to the Foundation over the years and also loaned the Foundation $5,000 to help finance the painting of the C-97. In October of 1998, he made the long drive from Hamilton, Montana to Moses Lake, Washington to be of service and to witness the first flight of the C-97 under the ownership of the Foundation. Pat visited New Jersey in early November 2001 and Tim Chopp, Foundation President, had the privilege of spending the day with Pat showing him the facilities at Floyd Bennett Field, Brooklyn, New York. Pat was very happy with the facilities used for our C-54 winter maintenance and shelter during the harsh winter months. The Foundation recently received a document titled, " The Life and Memoirs of Charles (Pat) Patterson." This document was very interesting and was an excellent representation of this true patriot. In addition, Pat has been a lifetime member and supporter of the Foundation for several years. Pat, thank you again for caring. Your generous support has made a real difference.

Equation mf = mr Meaningful funding = Meaningful results

Now Confirming 2002 Events for C-54 "Spirit of Freedom"

<![if !mso]><![endif]>

The 2002 schedule for the Foundation's Douglas C-54, the "Spirit of Freedom", is crucial to the growth of the Foundation. The ideal situation is a very busy 2002 event season with few maintenance problems and adequate income for the C-54 with surplus funds for C-97 maintenance. Following the attacks on the US plus a downward economy, the Foundation hopes the 2002 event season will be a good year and is encouraging event promoters to consider inviting our C-54, the "Spirit of Freedom" to their 2002 event. The Foundation has much to offer visitors who tour the "Spirit of Freedom." In addition to an all day boarding pass to families, the Foundation also offers free posters to visitors, student book report kits to school age visitors and Berlin Airlift coloring books to our young visitors. At all events, the Foundation offers the Berlin Airlift Book by John Provan and Ron Davies for those serious patriots and history buffs. As of this writing, the 2002 events that have good possibilities are: Columbus, Georgia for late March, Sun and Fun, Lakeland, Florida for early April, Millville, New Jersey for early May, Lost Nations, Ohio for mid July. A more detailed schedule will be published when the events for 2002 are confirmed.

C-97 CONTRIBUTORS

The following is a list of contributors who made contributions to the C-97 project to help with the engine change at Aberdeen, South Dakota. These contributions were received by the Foundation after July 3, 2001. All of these contributions were appreciated very much and were used exclusively for the C-97. The total contributions were $3,280.00, (Three Thousand Two Hundred and Eighty US Dollars). Again, Thanks to the following individuals for their timely response:

* John Yohannan, Whiting, New Jersey

Richard Bowen, Newark, Delaware

George J. Taylor, Jamestown, North Carolina

William Cumming, Pineville, LA

Maurice Jackson, LT. CMD US Navy Ret, Virginia Beach, Virginia

Richard Townley, Warren, New Jersey

F. Clifton Berry, Jr., Oak Hill, Virginia

Anna Marie Hogg, Hampton, Virginia

Shaun Fitzpatrick-APO

** Mark Meltzer, Palo Alto, California

Bruce H. Hayes, Hertfordshire, England

Gail S. Halvorsen, Spanish Fork, Utah

Philip Maxwell, Tradelphia, West Virginia

Earl Block, Long Branch, New Jersey

Manfred Knoph, Williamstown, New Jersey

Richard Langhoff, Mattapoisett, Mass.

Robert Burns, Melbourne, Florida

Ann Barnes, Orlando, Florida

***Fleet Reserve Association, Santa Clara Branch 101, California

James D. Toland, Churchville, Maryland

***Charles (Pat) Patterson, Hamilton, Montana

*Note: John Yohannan helped by pledging $100 a month until he has contributed a total of $1,000. He is almost at his goal. Thank you very much John.

**Note: Mark Meltzer is a true C-97 fan and supporter and has demonstrated this by contributing $1,000 a few years ago and continues to make periodic contributions. He recently upgraded his membership to a lifetime member by contributing $500. In addition, all of Mark's contributions were submitted to his employers gift match program. Thank you sincerely, Mark. Mark is currently listed on our volunteer flight crewmember roster. We are anxious to meet him and share the sky with him

***Note: The Fleet Reserve Association and Charles (Pat) Patterson each donated $1,000 during the month of August 2001. Both have been long time supporters of the Foundation. Their donations have resulted in significant progress for the C-97 Program, and the Foundation is truly grateful.

<![if !mso]><![endif]>

Locating a Crane/ Steve Hilton Made it Easy!

The logistical problems involved in changing a R-4360 engine on a C-97 are quite extensive. One of those problems is the use and availability of a crane capable of supporting the entire power package, which is in excess of 6000 lbs. Allow me to stress the word availability, because without a crane, there can be no engine change. In addition, there is that nasty question so vital to a tax-exempt charity: What will it cost?

Once terms for the replacement of our #3 engine with a borrowed engine were agreed to with Hawkins and Powers Aviation, a telephone call was placed to Mark Cavin of Aberdeen Flying Service asking him for advice as to where to locate a crane. Much to our surprise his answer was, " we already have one located complete with an operator and at no charge to the Foundation." Can this be true? Can it be this simple? The answer is yes.

In the end, we received the use of a crane from a fellow patriot, Steve Hilton, owner of Aberdeen Machine Tool. Steve is learning to fly at Aberdeen Flying Service and heard of our predicament and wanted to help. He donated the use of his crane, a Pettibone Model number 19 capable of lifting 20,000 lbs. The operator of the crane was Doug Roethler, another fellow patriot and employee of Aberdeen Machine Tool.

On behalf of the Foundation, we owe our sincere thanks to Steve Hilton for his generosity in donating his crane and to Doug Roethler for his time and skill to operate it. A problem, the resolution of which was made easy by two American Patriots. The examples set by Doug and Steve speak highly of the people of Aberdeen, South Dakota.

<![if !mso]><![endif]>

TAX DILEMMA?

Do you have a tax dilemma and need to contribute some funds to a charitable

organization before the end of the year? Remember the Berlin Airlift Historical

Foundation is a tax-exempt charity meeting the requirements of a 501(c)(3)

organization as specified in the Internal Revenue Code. Your support will help the

Foundation continue it's educational and historical missions with our Douglas C-54,

the "Spirit of Freedom" and Boeing C-97G,the "Angel of Deliverance"-two great

flying educational museums/exhibits.

Scroll Down For Older News

---------------------------------10/2001 NEWS---------------------------------
Corporate Secretary Kevin Kearney talking with two South Dakotans

in front of the failed #3 engine of our C-97G "Angel of Deliverance"

By Kevin Kearney, Corporate Secretary

At 3 AM on October 8, 2001, I found myself and Foundation President Timothy A. Chopp on our way to Newark airport for a return to Aberdeen, SD. We were forced to leave our C-97 there on July 3, 2001 due to a #3 engine problem, and we were going back to find out exactly what went wrong. Upon our arrival at the airport, we found ourselves in the midst of a series of security procedures never before seen in this country. As a result of the Sept. 11 terrorist attacks on the US with the destruction of the World Trade Center in NY, and the attack on the Pentagon, we were not so sure we wanted to fly commercially. After being searched, having our bags searched, 2 different types of metal detectors, a metal detecting wand and a physical patting down, we felt much more reassured about our decision. Another reassuring sight was that of several Army National Guardsmen with their M-16 rifles at the entrance to the gate area. The flight to Minneapolis was smooth and the service was excellent, courtesy of Northwest Airlines. A short time and one commuter flight later, Tim and I found ourselves staring at the mighty C-97 for the first time in 3 months.

Our first order of business was to find the Airport Manager Tom Wylam, and make him aware of our presence. After a brief conversation, Tim and I changed into our work clothes and began the investigation into our #3 engine troubles. First, we wanted to find out if, as a few have suggested, the engine was seized. We attempted to turn the propeller and it would only turn about 100 degrees in wither direction. This was the first sign of things to come. On the chance that the engine was hydraulic-locked, we uncowled it, and began to pull spark plugs. We expected to find a cylinder or two filled with oil, but we had no such luck. It was not an oil problem. As I was removing the spark plugs on a bottom cylinder, I discovered a set that was physically smashed, and the electrodes were shorted together as a result. At about this time, another Foundation Volunteer arrived from Colorado, in the form of Dick Markgraf, a pilot, mechanic, and the Aircraft Commander during our attempted ferry from Wyoming in July. After considering what we had found, it was decided we should now pull the oil screen from engine #3 and see if there was metal contamination in the oil.

15 minutes later, I heard the fat lady warming up. The screen was full of metal. The engine was finished. Replacement is our only option. Not knowing what course of action we will take next, we began to prepare our C-97 for the long., cold South Dakota winter, should an immediate answer not be found.

I must say that the people of Aberdeen, South Dakota are some of the most supportive and helpful people we have ever encountered. They were making plans to hold an auction of some sort in order to benefit the Foundation and the C-97. We were also told that a Fly-In was being planned, also, in order to raise money to help us out. Of course, those plans have been put aside as a result of the Sept. 11 attack. We are not dismayed, however, because upon my return from SD, on Saturday, Oct 11, I received an email from Jon P. Amtower of Gettysburg, South Dakota. It seems he saw an article in the Aberdeen American News on Saturday about our plight and has pledged $5,000 to help with our engine replacement, thus becoming our sixth "Angel of Deliverance"! A sign of things to come? I hope so.

Id like to also take this opportunity to thank some of the kind and patriotic people we encountered in Aberdeen, they made us feel welcome and have become fast friends of the Foundation and its mission. First, Tom Wylam, Manager of Aberdeen Regional Airport for his support and the use of his facilities. Mark Cavin of Aberdeen Flying Service, for providing us with ground transportation for our entire visit, telephone service and storage for our C-97's batteries and some other items we do not want left out on the cold. We would like to thank Gary of Airport Maintenance, for his support and help. Gary donated several nylon tarps we used to cover the engine and its inlet ports with. Gary also bought Tim and I a pizza dinner on Friday night. Finally, we'd like to especially thank Dani Limberg of Quest Aviation for providing us with necessary tools, cleaning supplies, and for generally being extremely helpful. Dani also spent much of her off time physically helping us place the cowlings inside the aircraft and has taken it upon herself to "keep an eye out" for the safety of the aircraft when we are not there. Dani has also taken some outstanding photos of the "Angel of Deliverance" capturing 2 additional "Lightning" photos! Who says lightning doesn't strike twice?
Finally, we would like to say a few things about the kindness of Northwest Airlines. They have been behind our C-97 project for the past four years. All of the airline transportation required for this project has been provided by Northwest. Furthermore, during this time of uncertainty and our anxieties about flying on the airlines, Northwest's service and security certainly helped to ease those concerns. As we have experienced on every flight on Northwest Airlines for the past 4 years, the service is always excellent, and the employees are courteous and professional, and the concern for passenger comfort and well-being.We encourage everyone to use Northwest Airlines for your air travel needs for as we have discovered, you will not be disappointed.

Special Thanks to Bob Maddox

The Foundation continues to be involved in many projects. The demands of each project sometimes require a behind the scenes individual who can help fill in the pieces to make the project a success. The Foundation's former Vice President, Bob Maddox, has fulfilled this role of the behind the scenes individual for the past year. Bob helped with not only the coordination of aviation gasoline for our C-97 ferry flight last July, but also he helped acquire 4 drums of oil for the Spirit of Freedom during last year's inspection at Floyd Bennett Field, New York. Bob is now taking on the colored smoke project by searching for information about various dyes. He has already acquired dyes for testing in the new smoke system. In addition, Bob continues to be on the lookout for support equipment that will help maintain our transports and keep them safe. The Foundation salutes Bob Maddox for his patriotic spirit and continued support in helping keep the Spirit of Freedom flying.

September 11, 2001: Will it Affect Operations?

By Tim Chopp, President

On September 11, 2001, terrorists attacked America. Ever since then, I have been asked whether these terrorist acts will affect the Foundation's operations. The best answer I can give, at this time, is that it is too early to tell. The true impact of these terrorist acts on the Foundation's continued ability to operate will be assessed by the number of future events and activities scheduled in the year 2002. Currently, the Foundation is operating at an acceptable level and we are able to meet our immediate financial obligations.

Here is a review of the Spirit of Freedom's activities since late August 2001. The Spirit of Freedom participated successfully in a two week tour beginning on 31 August 01 with a five hour successful flight to Saint Louis, Missouri. This trip to Saint Louis turned out to be a great Labor Day weekend event. On 4 Sep 01, the crew once again successfully flew the Spirit of Freedom on a three hour flight to Majors Field, Texas, where the Spirit of Freedom remained until 8 Sep 01; completing another successful event. On 9 Sep 01, following the one-day air show, the Spirit of Freedom departed for Montgomery, Alabama. While in Montgomery, the Spirit of Freedom was open to the public for two days. On the morning of 11 Sep 01 as the crew was preparing the Spirit of Freedom for the six hour return flight from Montgomery, Alabama to Toms River, New Jersey, the terrorists attacked America. As a result of this terrorism, the FAA shut down the entire air space system grounding the Spirit of Freedom and its crew at Montgomery, Alabama. After waiting two days for the FAA to reopen the airspace, the crew decided to rent cars and drive home.

After a long 17-hour drive home to Toms River, New Jersey, I was greeted with the bad news that the Foundations' next four events had been cancelled due to the terrorist's acts. These canceled events included: McGuire Air Force Base, New Jersey; Augusta, Georgia; Tupelo, Mississippi; and Elizabeth City, North Carolina. The news was initially devastating and ultimately resulted in a financial loss to the Foundation totaling $20,000 to $25,000. Without these setbacks, September had promised to be one of the best months for the Foundation! At this point, if I had been asked the question whether the terrorist acts will affect the Foundation, I would have answered YES. However, hope was around the corner.

Birmingham, Alabama had planned an air show for 29 and 30 September 2001, and they wanted the Spirit of Freedom. Because the Spirit of Freedom was still located in Montgomery, Alabama and because the Tupelo, Mississippi air show had cancelled, we were able to participate. After a long grueling drive back to Montgomery, Alabama, we flew the Spirit of Freedom to Birmingham. Following the air show at Birmingham, Alabama, on 6 Oct 01, we were also able to participate in a one day event at Madison, Indiana. Even though, the income received from contributions at both of these air shows was far below the norm, the Foundation still prevailed by recouping two weekend events. Both of these events and the public support gave the Foundation future hope. We were pleasantly surprised by the air show visitors; who were very patriotic, in good spirits and very appreciative of the Spirit of Freedom's presence. As a result of these two short noticed events and the fact that events seemed to be business as usual, we have hope for the future. Again, the bottom line is the true test of whether the terrorist attacks will have an effect on the Foundation's operations will be a direct reflection of the scheduled events for the year 2002. Can we obtain and sustain an acceptable schedule of events for the year 2002? We will have to wait and see. We hope you will continue to join with the Foundation in ensuring the Spirit of Freedom keeps flying on its educational and historical mission.

Contributions ? Will they continue ?



The Foundation is grateful to see there are patriots who have not forgotten about the Foundation and it's need for continued support. The Foundation staff was quite concerned that support would almost disappear following the attacks on the US. We are happy to report this is not so. We salute every patriot who has contributed to help keep the C-54 "Spirit of Freedom" flying and to our C-97 "Angel of Deliverance" project. Thank you for caring.


Annual Dinner Postponed

Much to our regret, this years' Annual Dinner has been postponed due to the current world events and local concerns. We plan to schedule the Annual Dinner for a later date, when the current world events improve. We will keep everyone posted concerning the new date for the Annual Dinner and look forward to having an enjoyable and well-attended event.

Smoke System Announced - A New Role for the "Spirit of Freedom"

Three years ago a good friend, Andy Kondrach of the Millville Army Air Field Museum, presented to the Foundation the idea of installing a smoke system on the Spirit of Freedom.

TM It was Andy who stated that the "Spirit of Freedom" would be a welcome sight performing a flyby at various events during the National Anthem. During these kinds of flybys the Spirit of Freedom would emit red, white, and blue smoke from its 4 exhaust stacks as a patriotic tribute. To bring Andy's idea to reality, Decosta Aviation Services of Franklin, Virginia was contracted to design the smoke system and obtain approval from the Federal Aviation Administration (FAA) for the installation. In November 2000, work began on the new smoke system, after Joe Decosta reported to the Foundation that approval was granted from the FAA. Due to many unexpected obstacles, such as weather, and scheduling conflicts, etc., the new smoke system was not ready for fine-tuning until this year. The new smoke system produces white smoke using standard smoke oil. The next step in the process is to produce colored smoke, which is easier said than done. The Foundation initially wanted to hold off on announcing the new role of the Spirit of Freedom until the colored smoke could be perfected. The terrorist events against America on September 11, 2001 has prompted the Foundation to announce the new smoke system in this newsletter in order to give a boost to the Spirit of Freedom and what it stands for. On behalf of the Foundation, thanks to each and every one of you who is helping to keep the Spirit of Freedom flying. We now look forward to our new role in carrying out the Spirit of Freedom's educational and historical mission.

This is what we hope the smoke system will look like when it is fully completed
For further information about the Berlin Airlift Historical Foundation or the Award Winning C-54 "Spirit of Freedom"TM or C-97G "Angel of Deliverance", contact the Foundation at AIRLIFT48@AOL.COM