BOEING C-97G
ANGEL OF DELIVERANCE
sn 52-2718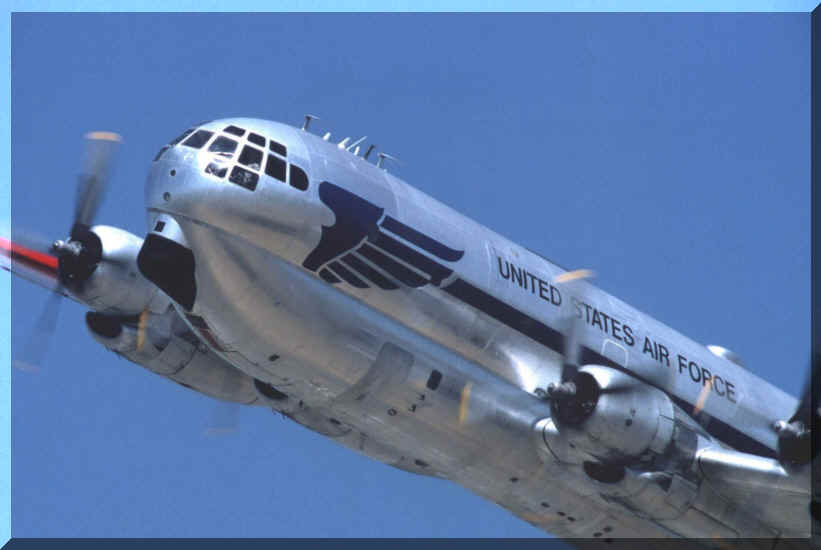 Berlin Airlift Historical Foundation acquired Boeing C-97G 52-2718 in 1996. A former KC-97, 52-2718 is one of only 2 remaining airworthy C-97's in the world. We plan to operate the "Angel of Deliverance" as a "flying museum, and classroom", in the same manner as we do with our Douglas C-54, "Spirit of Freedom". We plan to tell the story of the Cold War, from the Berlin Airlift of 1948 to the fall of the Berlin Wall in 1989. This will include such events as:
The Berlin Airlift
The Korean War
The "Red Scare" and McCarthyism
The Cuban Missile Crisis
Sputnik and the Race to the Moon
The Vietnam War
The Arms Race
Glasnost and the fall of the Soviet Union
These topics will be represented as part of a Timeline-oriented display throughout the fuselage of the aircraft. It will be augmented by artifacts, photographs, personal experiences, and it will be all housed in the hull of a true Cold Warrior, a former KC-97. The KC-97 helped the USAF maintain a "round the clock" presence in the air by becoming the first real air-to-air refueler.
Since this project is so large, much help is needed. We need assistance with the following:
Transportation of 3 engines from Corpus Christi, Texas to Brooklyn, NY
Location and acquisition of additional spare R-4360-59B engines.
C-97 Manuals and training aids
Ground Support Equipment Large enough to handle the C-97
Financial support for this large project.
This is the only chance to preserve an airworthy example of this great airplane!
BOEING C-97G 52-2718 "Angel of Deliverance" History

Manufactured by Boeing Aircraft Company, Seattle WA, as KC-97G and delivered to the USAF on April 27, 1954.
Apr. 1954 to 98th Air Refueling (Medium) Squadron (Strategic Air Command), Lincoln AFB, NE.
Sep. 1954 to 96th Bombardment (M) Wing (SAC), Altus AFB OK.
(Deployments to Ernest Harmon AB, Newfoundland, Elmendorf AFB AK, and Mountain Home AFB ID).
Sep. 1957 to 96th Air Refueling (M) Squadron (SAC), Altus AFB .
Jun. 1958 to 97th air refueling (M) Squadron (SAC), Malmstrom AFB MT.
Feb. 1961 to 407th Air Refueling Squadron (SAC), Malmstrom AFB
Jul. 1961 to 26th Air Refueling Squadron (SAC), Plattsburgh AFB, NY
Feb. 1962 to 4108th Air Refueling Wing (SAC), Plattsburgh AFB
Jan. 1963 to 497th Air Refueling Wing (SAC), Plattsburgh AFB
Aug. 1964 to 128th Air Refueling Wing (Air National Guard), General Billy Mitchell Field, Milwaukee WI
Aug 1965 Converted to KC-97L (Two General Electric J-47 jet engines installed under outboard wings, so
the aircraft could refuel the fast jets.)
Sep. 1972 to 151st air Refueling Group (ANG), Salt Lake City MAP UT
(Deployments to Rhein Main AB, Frankfort, Germany, "Operation Creek Party")
Sep. 1976 to Military Aircraft Storage and Disposition Center, Davis Monthan AFB AZ.
Jul. 1977 Dropped from Inventory as surplus.
1986 Auctioned to unknown group who converted her to C-97G
(Removing Aerial Refueling Equipment, and Fitting Cargo Doors)
1988 - Seized by US Marshal Service and auctioned to Grace Aire Inc. of Corpus Christi TX.
(Operated as a cargo transport for humanitarian missions to South America and to carry fish in Alaska.)
4-22-1996 Purchased by Berlin Airlift Historical Foundation.
Nov. 1997 Aircraft paid for in full by Berlin Airlift Historical Foundation
Oct. 1998 Flown from Moses Lake, Washington to Greybull, Wyoming for inspection and restoration.
Sep. 1999 FAA Approval of Inspection program achieved.
2000 Aircraft painted in colors of YC-97A 45-59595, the sole C-97 used in the Berlin Airlift.
July 2001, Flown from Greybull, Wyoming to Aberdeen South Dakota.
Nov. 2001 Flown from Aberdeen SD to Millville, NJ.
May 2002 Flown to Floyd Bennett Field, Brooklyn, NY.
Feb. 2003 Foundation acquires C-97G 53-3816 for spares. (the forrmer AeroPacifico Airplane, it was the last C-97 Built)
November, 2003 Foundation takes delivery of parts from 53-3816, which includes 6 spare R-4360-59B engines.
CURRENT STATUS: UNDERGOING INITIAL AIRWORTHINESS INSPECTION AND CREW TRAINING! UPDATED!
WE CAN NOT DO THIS ALONE- WE NEED YOUR HELP!!